November 29, 2017
Fourth Calendar Survey unveils draft 2018-2019 calendar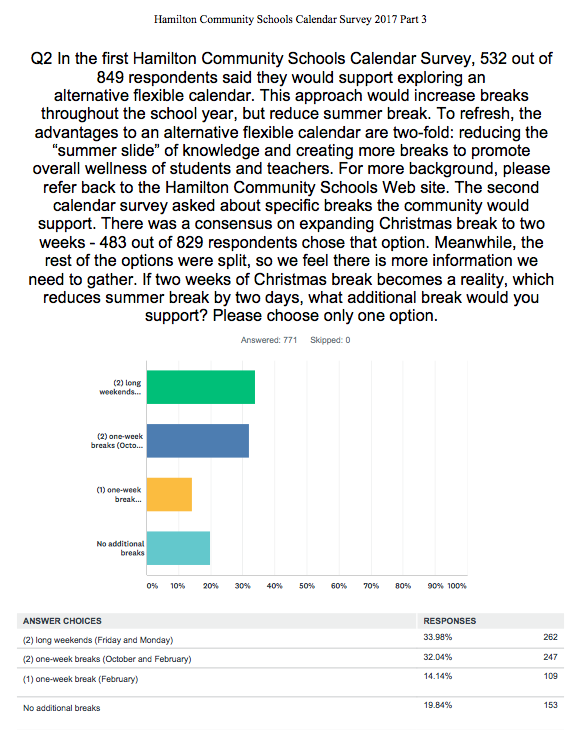 Thank you for your participation in the three district calendar surveys. We learned you were interested in exploring a pre-Labor Day start. We learned you desired a two-week Christmas break. We learned, after a thorough review of the optional comments, that a majority of you wanted at least some type of new time off during the year as well.
However, since there was no consensus about which of the other breaks was preferred, the administration team and teacher union leadership decided to create a draft 2018-2019 school calendar taking into account all of these priorities, with the intent to spark discussion and additional feedback from staff, community, parents, and all stakeholders.
This is not final, rather we are asking whether you support this calendar – yes or no – then why.
Now for a basic overview of the proposed changes.
You will notice an earlier start date of Aug. 22, with both weeks before Labor Day shortened weeks. The end date is June 12, just two and a half days later than this calendar year.
In the fall, we added a Thursday and Friday off in October – Oct. 18 and Oct. 19. Then, in November we converted the half-day off before Thanksgiving to a full day off. Shifting to winter, we expanded the Christmas break to two full weeks, based on overwhelming feedback from the surveys. A full-week break was added in February – Feb. 18 to Feb. 22. Rounding out the year, a full day off was restored before spring break.
Furthermore, instead of two-hour delays scattered throughout the year, we are introducing two-hour early releases on Fridays, based on feedback from multiple stakeholders.
If you have questions, please feel free to contact us.
Please take the survey here.