November 7, 2018
Thank you for your support of the Ottawa Area Enhancement Millage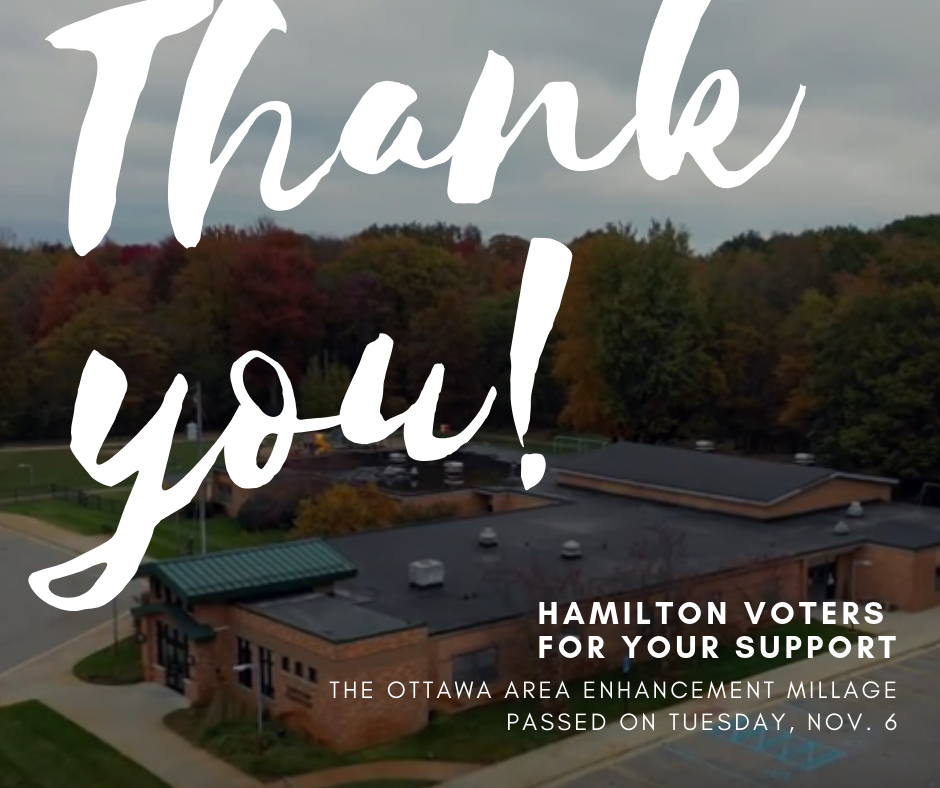 Based on preliminary election results, voters in the Ottawa Area Intermediate School District (OAISD) service region on Nov. 6 approved a 0.9 mill, 10-year regional enhancement millage that will provide member public schools with approximately $11.2 million, or $226 per student in the first year. They will begin receiving that money after the first tax collection in 2019.
By law, funds will be collected by Ottawa Area ISD and distributed on an equal per-student basis to each of the local K-12 public school districts and public school academies with approximately 95% of funds going to the 11 K-12 public school districts, less than 5% to charter schools and less than 1% to OAISD.
"We are so pleased our community members recognize and support the important work our schools are doing to prepare students for future success and develop their full human potential," Pete Haines, OAISD superintendent, said about the voting results. "It has become common practice for schools throughout our region to collaborate for the greater good of our students and families, and this is just one more example of the cooperative culture that exists in the Ottawa area."
The millage funds will give public schools a locally generated and reliable source of revenue to expand efforts to ensure student safety, to provide assistance for students with greater mental/emotional health needs, and for programs that create greater connections to college and careers for students.
Grand Haven Area Public Schools Superintendent Andrew Ingall said area schools have a history of excellent community support which is key to maintaining high-quality educational programs.
"Our communities have come to expect high standards for both the quality and variety of educational opportunities for area students. Schools throughout the Ottawa region continually strive to go above and beyond expectations to offer innovative programs, safe and secure learning environments, and to nurture and meet the diverse needs of each and every student," Ingall added. "We are grateful our community members have decided to support us in this mission."
School leaders say these dollars will help compensate for inadequate state funding that has not kept pace with inflation.
According to Dr. Brian Davis, superintendent of Holland Public Schools, these funds are going to be an important resource for area public schools.
"I cannot thank our community members enough for their vote of confidence in our schools. We receive about 11 percent less today in state funding than what we received in 2000. When deciding whether to place the enhancement millage proposal on the ballot, we took a look at a study that was done by the School Finance Research Collaborative which indicates we should be receiving a little over $9,500 per student based upon the graduation requirements of our state. That amount is well above what any of our Ottawa area districts or charter schools receive. These millage funds will help close that gap to some extent to preserve the quality schools and quality programs that exist throughout our region," Davis added.
The 0.9 mill tax levy will cost the owner of a $100,000 home an additional $3.75 per month or $45 per year.
All millage dollars will be publicly reported on each district's website and an independent audit will be conducted to ensure transparency and accountability.
The 11 K-12 public school districts that will receive millage funds include Allendale, Coopersville, Grand Haven, Hamilton, Holland, Hudsonville, Jenison, Saugatuck, Spring Lake, West Ottawa and Zeeland.
Seven charters schools within the OAISD will receive millage funds and include Black River Public School, Eagle Crest Charter Academy, iCademy Global, Innocademy, Vanderbilt Charter Academy, Walden Green Montessori and West Michigan Academy of Arts and Academics.