November 26, 2019
Hamilton Theatre will host "The Miracle Worker"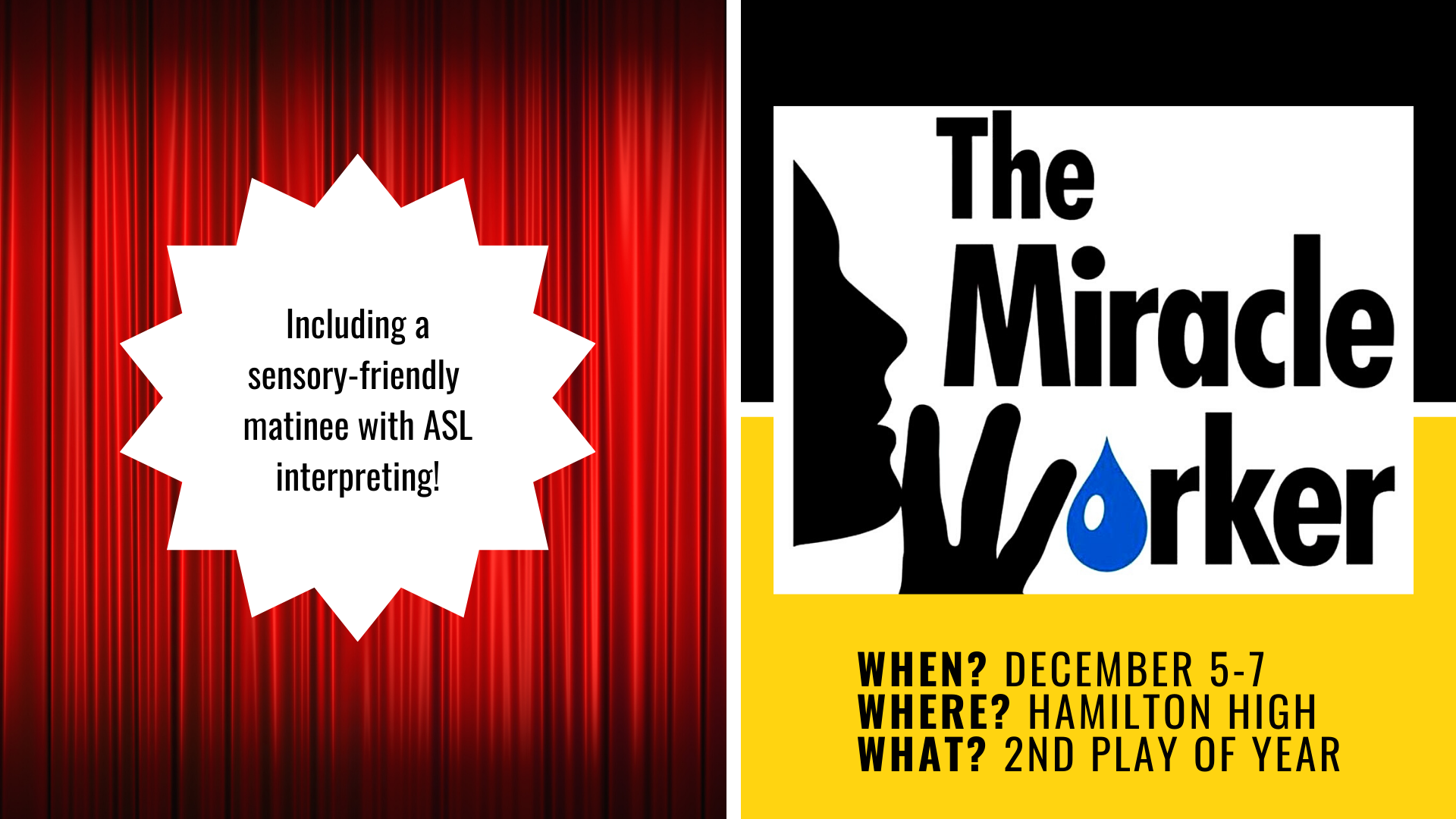 Hamilton High School Theatre department will explore the essence of dignity and hope in the second production of the 2019/20 season. William Gibson's play, The Miracle Worker, is based on the early life of Helen Keller and the incredible teacher who changed her forever.
Performances run December 5 – 7 at 7 p.m. with a sensory friendly matinee with ASL interpreting on Saturday, Dec. 7 at 2 p.m.
This Tony Award-winning play dramatizes the volatile relationship between a lonely teacher and her charge. The six-year-old Helen Keller who has been blind and deaf since infancy, is trapped in a secret, silent world of darkness. Along with Annie Sullivan, the young teacher who through determination, grit, and love, is able to overcome immeasurable odds, and find the key to unlock Helen's world.
The performances, set in a three-quarter, up-close-and-personal theatre, provides an intimate theatrical experience for both cast and audience – one that draws the audience into the world of Helen and Annie. Therefore, the seating is limited.
In addition to three general public performances, Hamilton High School is proud to offer a special sensory-friendly matinee on Saturday, December 7. This performance is specially designed for individuals with sensory, social, and learning disabilities, and their families. ASL translation will be provided for this performance. Additional special accommodations for this production will include designated quiet spaces and activity areas, vocal responses encouraged, and trained volunteers on hand. Specially priced tickets for this performance may be purchased either by calling Hamilton High School (269-751-5185) or in person.
Don't miss The Miracle Worker, an inspiring look at how people can fulfill their true potential despite the most adverse of circumstances.
Tickets Prices: $8 for adults and $6 for students and seniors.
For tickets: visit http://hamiltonhs.seatyourself.biz, call (269) 751-5185, or in person at Hamilton High School, 4911 136th Ave, Hamilton, MI 49419