September 17, 2020
Football kicks off on Sept. 18 with new regulations
As many of you know, the MHSAA has reinstated athletics for this fall season and we are excited to see our athletes back in action. So far all of the sports have been competing except for football. Football is unique in that it traditionally brings out the community as well as the parents of athletes on Friday nights. For this year that posed an issue for us as the requirements for us to run athletic events are such that each athlete only receives two tickets for each event. To date, our families and the community have been wonderful in respecting the boundaries that have been put in place that allow our athletes to compete.
As we look to Friday we want to clearly communicate the plan so that there are no misunderstandings and everyone is aware of how we plan to address the requirements put on us by the MHSAA and the corresponding Executive Orders. If you have no interest in football, you can stop reading and delete this email. If you are a parent, or a member of the district that was hoping to watch the game, please read on.
We are happy to share that we will be LIVE STREAMING the game and the link to that can be found here:
The requirements of MHSAA and the corresponding Executive Orders can be found below and the important information is bulleted underneath the links.
Spectator Limitations:
Limitations on spectators are based on the school's Phase in the MI Safe Start Plan, and updated based on Executive Order 176.
Each participant is allowed two guests for OUTDOOR sports. There are NO exemptions to this requirement.
Spectators Rules:
Spectators must wear face coverings and practice physical distancing. There are NO medical exemptions for masks.
Entrance and exit protocols, and posted signs by host management must be obeyed. Please keep 6 feet of distance between you and other families as you enter, exit and watch the game.
To help guide those people who have been given the athletes tickets, spectators should use the entrance between the tennis courts and the pool. To help illustrate this plan we have created a map of our campus and it is shown below: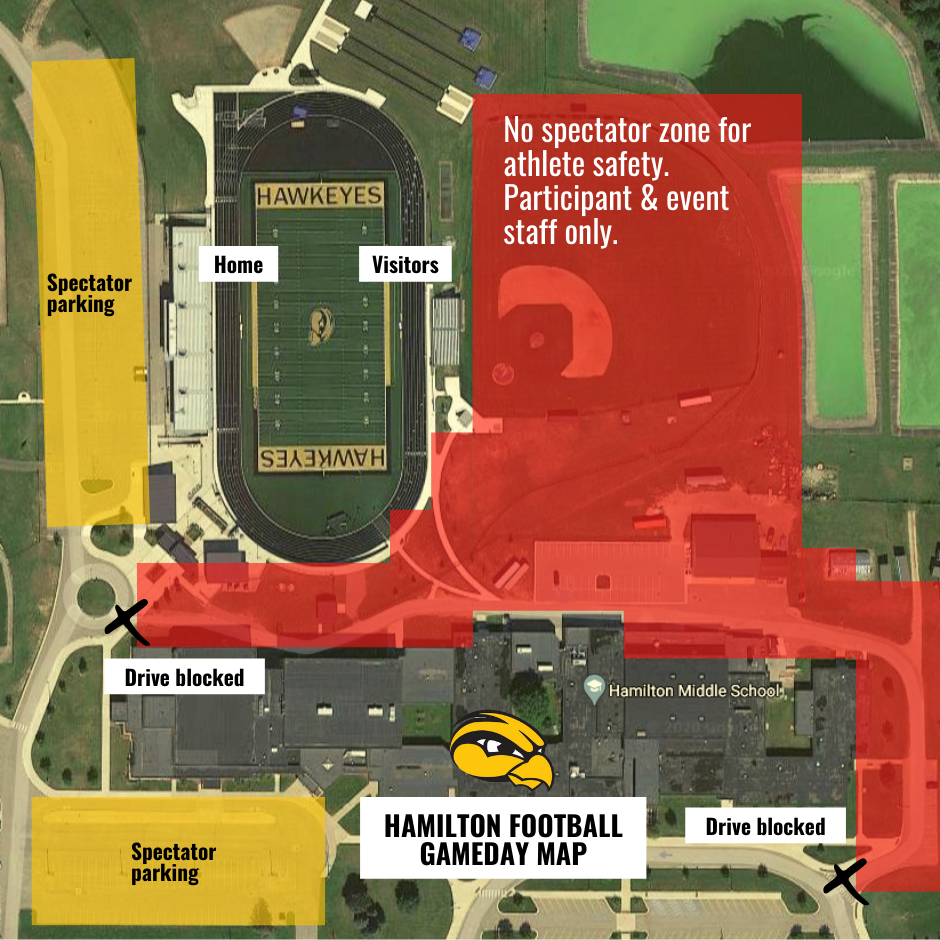 For the safety of our students and staff and to ensure that we continue to have the ability to allow our athletes to compete in the sport they love, we are communicating our expectations in advance. Anyone without a ticket attempting to enter the "athlete and event staff" areas outlined on this map will be asked to leave the campus.
Sincerely,
Jordan Bandstra, Athletic Director
Ben Bandfield, High School Principal
David Tebo, Superintendent