April 9, 2021
District Update: Hamilton continues with in-person learning this week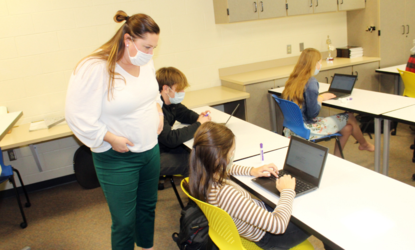 District Update April 9, 2021
Good Evening Hamilton Community School Families,
Today, Governor Whitmer and our local health departments recommended that we transition to remote learning and postpone athletics for a 2 week period due to the high spread rate of the COVID-19 virus. I have spent time in meetings with the health department and other school district leaders assessing our specific situation as the Governor and Health Departments are not mandating a closure.
At this time, Hamilton Community Schools will continue to do what we have done and follow those things that we are required to do and take other recommendations into consideration. Having done that, I believe that we are in a position to return to school on Monday, April 12th as we previously planned. At this time, we will not be forcing a move to remote learning, and will continue to practice and engage in extra-curricular activities as planned.
Please know that we may have to adjust this plan should we see a local spike in our cases or spread in our classrooms, buildings, or district. It is also important that we all do our part to curb the spread. PLEASE, for the sake of our students and teachers, follow proper social distancing, wear masks in the appropriate way and wash your hands frequently. We also encourage all of our students to limit interactions with other students in homes, cars and other spaces where mask wearing tends to be forgotten. We want our students in school and we want our community as a whole as safe as possible.
If you would like for your student(s) to transition to our remote learning option please contact your child(ren)'s teacher and the building office to let them know that you would like to make that switch.
Additional Reminder: MDHHS has returned to the standard 14-day quarantine for all close contacts of COVID-19 cases. The reduced 10-day option is no longer an option in Michigan for the time being; Michigan has never supported a 'test out of quarantine' option. This change is in response to the current surge in cases, rising positivity and detection of many variant cases. Please know that we will be following this mandate from the state.
Thank you for your understanding today and in the days to come as we continue to navigate this difficult situation.
In Education,

David Tebo, Superintendent