August 23, 2021
Hamilton Community Schools will follow new mask mandate from Allegan County Health Department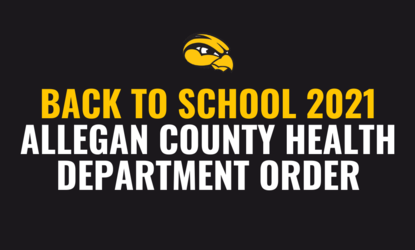 Dear Hamilton Community School Families,
The Allegan County Health Department issued a local health order on Wednesday requiring the following:
All students kindergarten through 6th grade must wear a mask indoors.
Any staff, regardless of vaccination status, providing service to any child in kindergarten through 6th grade, must wear a mask indoors.
Any staff providing service to students identified as medically fragile, regardless of age, must wear a mask indoors.
The rules are effective immediately and remain in effect until six weeks past the date COVID-19 vaccine is authorized and available to students aged 5 through 11, or until further notice from the health officer.
Hamilton Community Schools will be following this mandate from the Allegan County Health Department.
We will continue to keep you informed about outside activities, community recreation and interscholastic athletics, and gathering restrictions as they may occur.
Hamilton Community Schools