September 15, 2021
Victory Day will take place Saturday, Oct. 9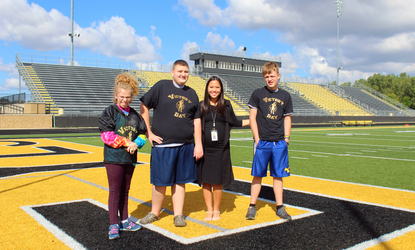 Hamilton Community Schools will host its second Victory Day experience on Saturday, Oct. 9 in the Hamilton Football Stadium.
The modified football event fosters peer support and gives students with disabilities the opportunity to score a touchdown at their home stadium. Aaron Segedi, a teacher and coach from Trenton, Michigan, held the first Victory Day celebration back in 2010. His mantra for the event was "there are no disabilities on this field."
Hamilton High School Teacher Mackenzie Brewer brought the event to Hamilton in 2019 after a few of her students experienced a powerful Victory Day celebration in Holland.
"After seeing the impact that Victory Day could bring, I knew Hamilton needed to host one so our students with disabilities could score on their home field wearing Hawkeye colors," Brewer said.
She was encouraged by the support she received from the Hamilton community in the first year.
"Hamilton has amazing athletes and peers who are compassionate and accepting just because it's who they are," Brewer said. "The Hamilton area has generous business owners and people who funded this event based only on the idea that together we could make it happen. I have been so touched by the outpouring of kindness and willingness to help."
Hamilton's Victory Day will take place at 3 p.m. in the Hamilton Football Stadium. Supporters who are there can form a tunnel to support both the student athletes and Victory Day participants. The event is free, but organizers will collect donations for next year's event on that day.