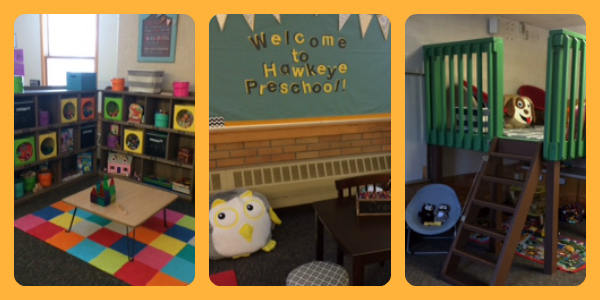 Hamilton Community Schools is proud to offer Hawkeye Preschool at Sandyview Elementary. Hawkeye Preschool offers half-day sessions for 3-year-olds (Tuesday and Thursday mornings) and 4-year-olds (3 mornings OR 4 afternoons). Eligibility for preschool is determined by the child's age on September 1st in the year of enrollment. The program year runs from mid- September to mid-May.
The afternoon sessions at Hawkeye preschool will offer Great Start Readiness Program slots for qualifying four year olds in addition to tuition-based slots. Qualification for GSRP, which is a state-funded free preschool option is based primarily upon income levels (eligible income for a family of four in 2017-2018 is $61,500) or other qualifying factors. A tuition assistance application, which includes qualification information, is available on the left side of this webpage and is required for Great Start Readiness applicants. Tuition Assistance has also been offered for our three-year old program through Ready for School.
The left hand side of this website including a registration form (which includes tuition information), a Tuition Assistance application, and an informational brochure. You may also contact our program director, Sarah Geukes at sgeukes@hamiltonschools.us or (269)751-5372 with any questions.
Registration for THE 2017-2018 School Year
To register, please complete the registration form on the left side of the site. A $50 deposit and copy of your child's birth certificate is required to complete registration. You may drop off payment and bring the birth certificate to our Administration Office:
Hamilton Community Schools
Attn: Mary Wedeven
4815 136th Ave.
Hamilton, MI 49419

3 and 4 Year Old Programs Available.
Tuition Assistance is available through the Great Start Readiness Program (GSRP) for 4 year-old students and through Ready for School for 3 year-old students. You must complete a tuition assistance application. Contact Sarah Geukes, Hawkeye Preschool Director at 269-751-5372 or sgeukes@hamiltonschools.us.

Hawkeye Preschool Registration Form 2017-18

Tuition Assistance Application 2017-18