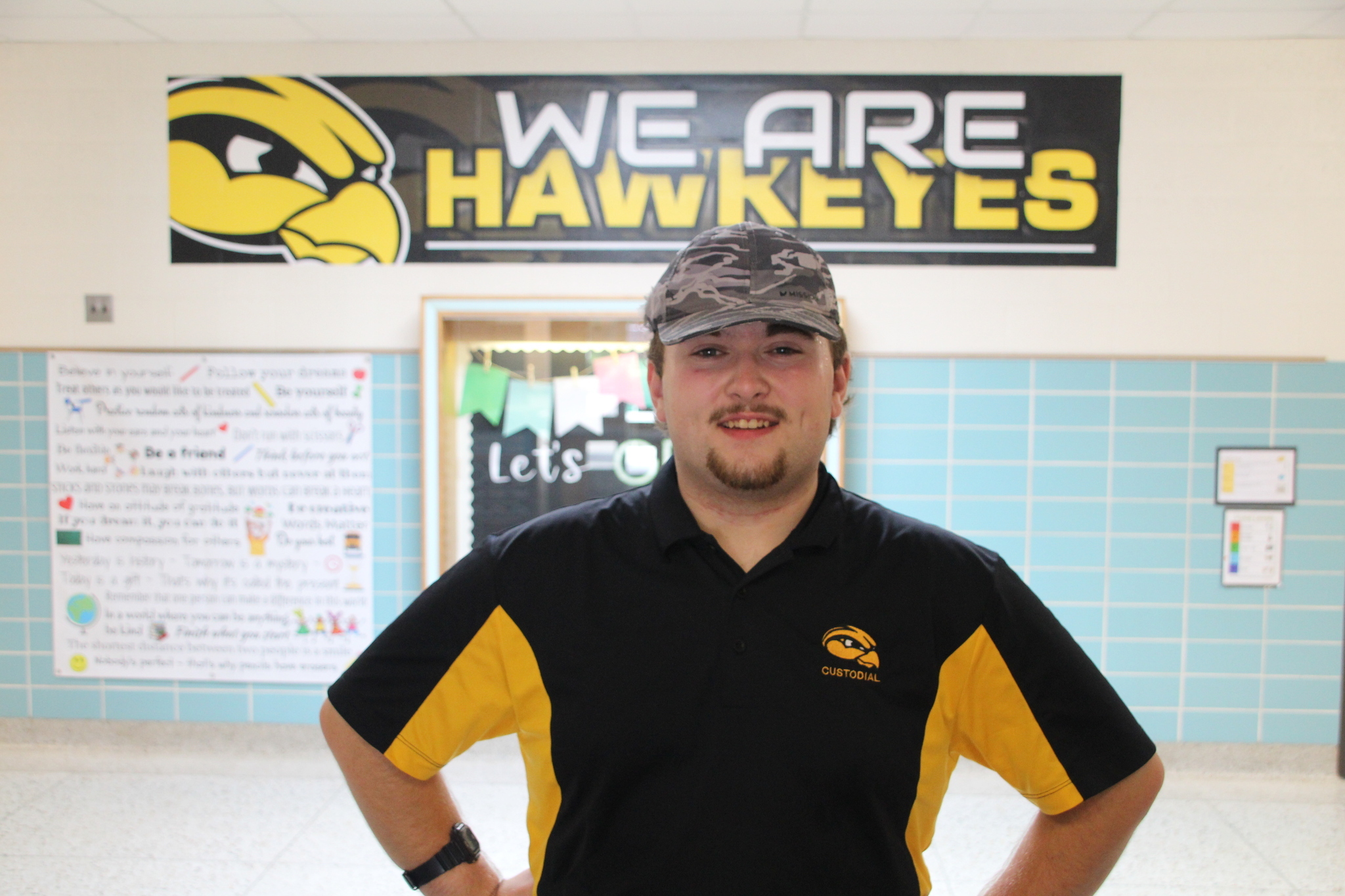 JJ Louden knew after high school graduation in May that he would have to find a job, he just didn't know exactly what or where.
The 2023 Hamilton High School graduate served as a Hawkeye Helper inside of our district during the summer of 2022 , where he assisted the maintenance and operations department with a variety of different tasks. Louden says that experience taught him a lot of life skills and a variety of other things, such as how much he loves his school district and community.
"I like everything about Hamilton," Louden smiled, "Everybody here is nice and there's always a nice person there for you every day."
That experience as a Hawkeye Helper got Louden thinking that maybe he could come back to work for Hamilton Community Schools. After applying for a custodial job over the summer, custodial supervisor Lon Haverdink welcomed him with open arms and put him right to work at Hamilton Middle School.
At the start of the school year, Louden was moved to Hamilton Elementary where he was tasked with a morning shift of cleaning classrooms, hallways, trash, windows, and much more.
"I usually get here at 6:30 in the morning to get all of my rooms that I'm assigned to done," Louden explained. "It's a lot of hard work, getting back and forth and making sure this building stays nice and clean."
Anybody who knows JJ knows that he keeps a smile on his face while working every day and has made himself a perfect addition to the building around the students and staff.
"It's great to see JJ in the morning busy helping students and cleaning things up," said Hamilton Elementary behavior paraprofessional, Brenda Moomey, "He always has a smile on his face, is always greeting students and staff, and you can just tell he loves being here."
Just a few months after uncertainty about where to work, Louden says he has found a home in the same community that he has spent the past several years in.
"I really love this position, every day the staff is really nice and the kids like me, it just makes my day every day," he smiled.
Hamilton Community Schools is hiring custodial staff! Apply today!