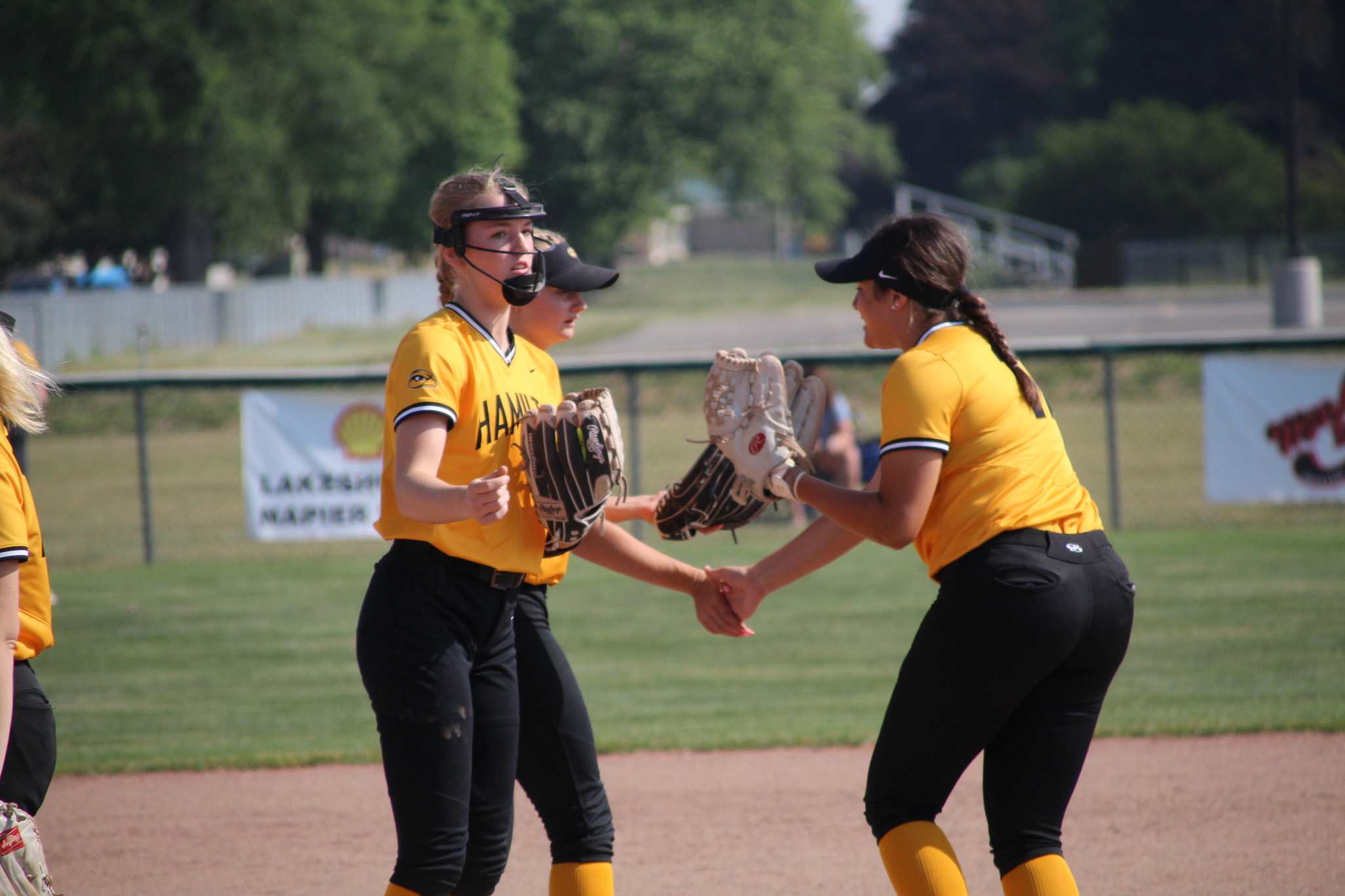 After a 30 win season and a share of an OK Blue conference championship in 2022, the standard was elevated for the Hamilton varsity softball program. Heading into the spring of 2023, the returning players not only expected a repeat of that success, they expected more.
The Hawkeyes would start the 2023 season 10-0 before hitting a rough patch of sorts, dropping four of their next six games. However, those close losses were a blessing in disguise, according to head coach Mark Behnke. The team regrouped in a big way going on a 12 game winning streak to end the regular season and enter district play.
In the district championship against South Haven, the Hawkeyes would trail 4-1. While there were moments of concern for Behnke, he knew the senior leadership would step up. Kyra Kleinheksel would deliver a two-RBI double to swing the momentum and Madie Jamrog put the clamps down in the circle, just like she did all season long. The Hawkeyes would come away with a 6-4 win and the program's first district championship since 1997.
After a 4-2 win against Wayland in the regional semifinal, the season would come to an end with a 4-1 loss to Vicksburg. Still, a 34 win season, a district championship, and an offensive season for the state record books is nothing to be disappointed in.
"I'd be lying if I said that I saw 34 wins coming, but I did think we could get into the state tournament and have a shot," Behnke explained. "Hitters one through eleven, we could really hit the ball, but we could also bunt the ball, there's a lot of ways we could get you because we don't generally give up a lot of runs."
And a big reason for not giving up a lot of runs was The University of Akron signee, Madie Jamrog who dominated in the circle for the Hawkeyes, going 29-5, pitching 194 innings, striking out 303 hitters with a 1.66 ERA.
"The biggest takeaway [from the season] is the girls on the team," Jamrog said, "We had a great team bond and great culture."
While Behnke continued to rave about his senior leaders: Jamrog, Kyra Kleinheksel, and Ava Prielipp, he says the 34 win season was possible because of the way the youth stepped up.
"We knew we had three seniors and other letterwinners returning this season that could play," Behnke added. "That played out exactly how I thought it would but we brought in three freshmen who hadn't played an inning of high school softball and two juniors who were on JV for two years but they're good players. They all stepped up in a big, big way."
In fact, freshman Ella Davison burst onto the scene with a 23-game hit streak to begin her high school career. Davison led the Hawkeyes with a .643 batting average and 81 hits, which put her 26th all-time in the MHSAA record books - nearly unheard of for a freshman.
"The standard was to compete for championships and that'll always be the standard," Behnke said talking about the season and the youth, "I've never seen a softball season like this before here, we've had a lot of good players that have played here, but we never thought we'd have a freshman hit .643 and a sophomore [Taylor Oosterink] hit over .500."
Speaking of record books, the 2023 season of Hawkeye softball will be remembered in more ways than just the wins and losses and the team culture. Hamilton hitters as a team left their mark on the MHSAA state record books. Here's a look at where the Hawkeyes will rank in team stats this season, according to the MHSAA record books:
503 Hits (7th all-time)
90 Doubles (Top 20 all-time)
40 Triples (4th all-time)
336 RBIs (Top 15 all-time)
.438 Team Batting Average (8th all-time)
The three seniors can hold their heads high knowing they have helped raise a standard within the program. With 64 combined wins over the past two seasons and a lot of returning talent next spring, the championship aspirations will continue to climb… and Behnke is quite alright with that.