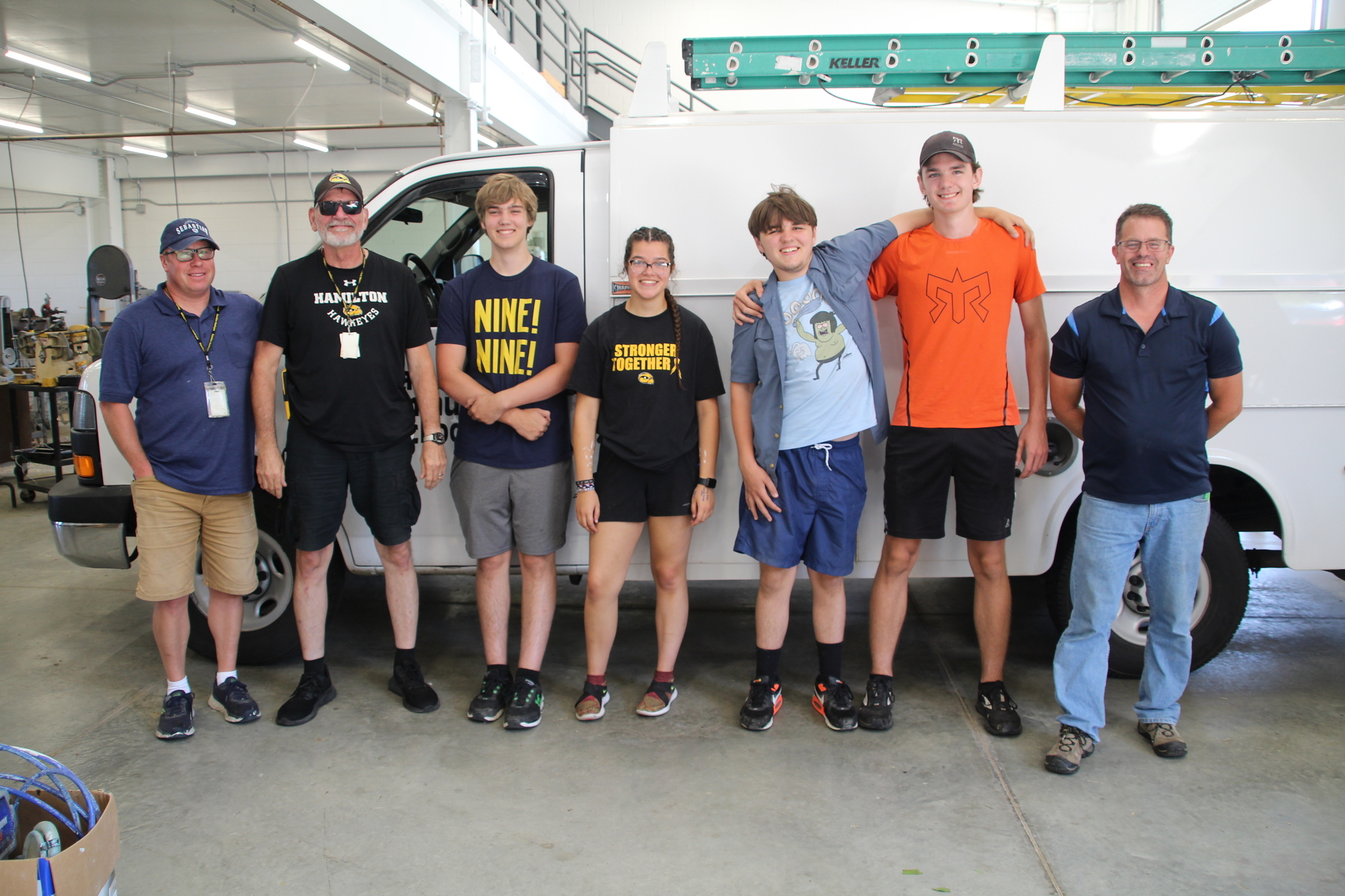 Since 2019, the Hawkeye Helper program has helped students make money, learn skills, and help better our district during the summer months. This summer, uprising seniors Liam Pothoff, Solomon Brenner, Jordyn Deters and uprising junior Bradon Brouwer are all working with the Hamilton Maintenance & Operations department on several different projects. The four students work four day weeks, eight hours per day and assist with several things all across the district, including air filters, irrigation systems, painting and cleaning, landscaping, and much more.
I learned how to drive a big tractor, which is nice to know," smiled Bradon Brouwer. While Brouwer was helping Mr. Bob Hippey move skids with the tractor, Jordyn Deters was learning how to backup a trailer to load mulch, Liam Pothoff was working with power tools and Solomon Brenner was learning about irrigation systems and changing sprinkler heads.
"It's a nice opportunity because it gives us a chance to not only make money but it gives us a job that's close to home and it helps us better the district we're learning in," Pothoff added.
For Maintenance & Grounds Supervisor, Keith Folkert, he enjoys the extra hands in his department during July and August, but it's more about helping the students learn important life skills that will better their future.
"What I like most about what we're giving them new opportunities to learn new things and giving them good resume building equipment and skills they may not pick up at other jobs in other places," Folkert said.
It also helps the students take pride in their work and in our district.
"When school starts up again I'm going to walk into school and say 'Hey, I painted that!' Or 'I changed those air filters!' Most students don't get to see the work that goes on behind the scenes, but we get to help with that work, and I think that's pretty cool," explained Deters.