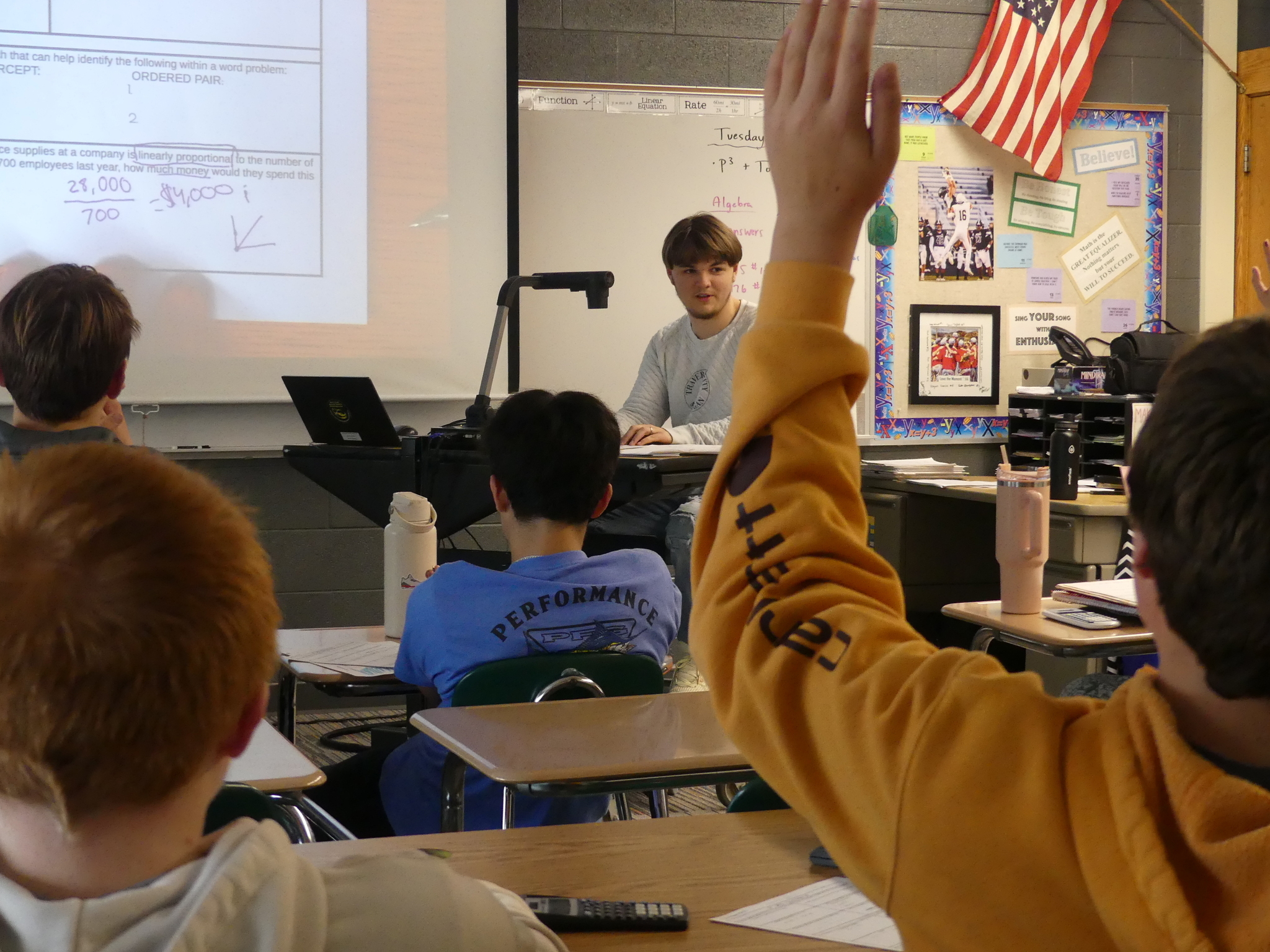 Solomon Brenner has had a dream of becoming a high school math teacher. After learning about the Hamilton Community Schools teaching assistant program, Brenner thought it would be a great opportunity to learn and assist in a classroom.
Not only did Solomon get selected to participate in the program, he was given one of the best mentors the district has to offer in 8th grade math teacher, Duane Bosma.
"I learned about this program and I figured this would be a great opportunity to throw myself right into the environment that I'll be working in the rest of my life," Brenner explained. "So far, it's providing great experience for that."
Bosma, who has had teaching assistants in the past, says you never know what to expect in terms of their commitment level and what they want out of the program. However, he quickly saw the spark in Brenner's eyes and noticied his desire to learn.
"He's learning a ton and is always open to learning about what the teaching world has for him and is getting ahead of the curve in terms of his education at the next level," Bosma said.
As a 20-plus year veteran at Hamilton Middle School, Bosma says a lot of students think it's easy to be a teacher but there's so much that goes on behind the scenes. He is making Brenner aware of all of the little details that goes into making a great educator.
"A lot of students think they can be a teacher because they see one every day but Solomon is learning that there's so much more than just standing in front of the class and teaching a subject."
Months in to a school year-long commitment, Brenner says he's enjoying every single day of building relationships with the students and learning from an outstanding mentor.
"I'm very grateful that this opportunity is here in Hamilton," he explained. "I think it's a wonderful program for anyone that wants to go into education because you're right there, you're in the classroom, doing teacher things, and overall, it's just a great time being in the classroom."
Brenner is one of four teaching assistants this school year in Hamilton joining Joelle Boeskool, Erica DeJonge, and Shayna Kragt.