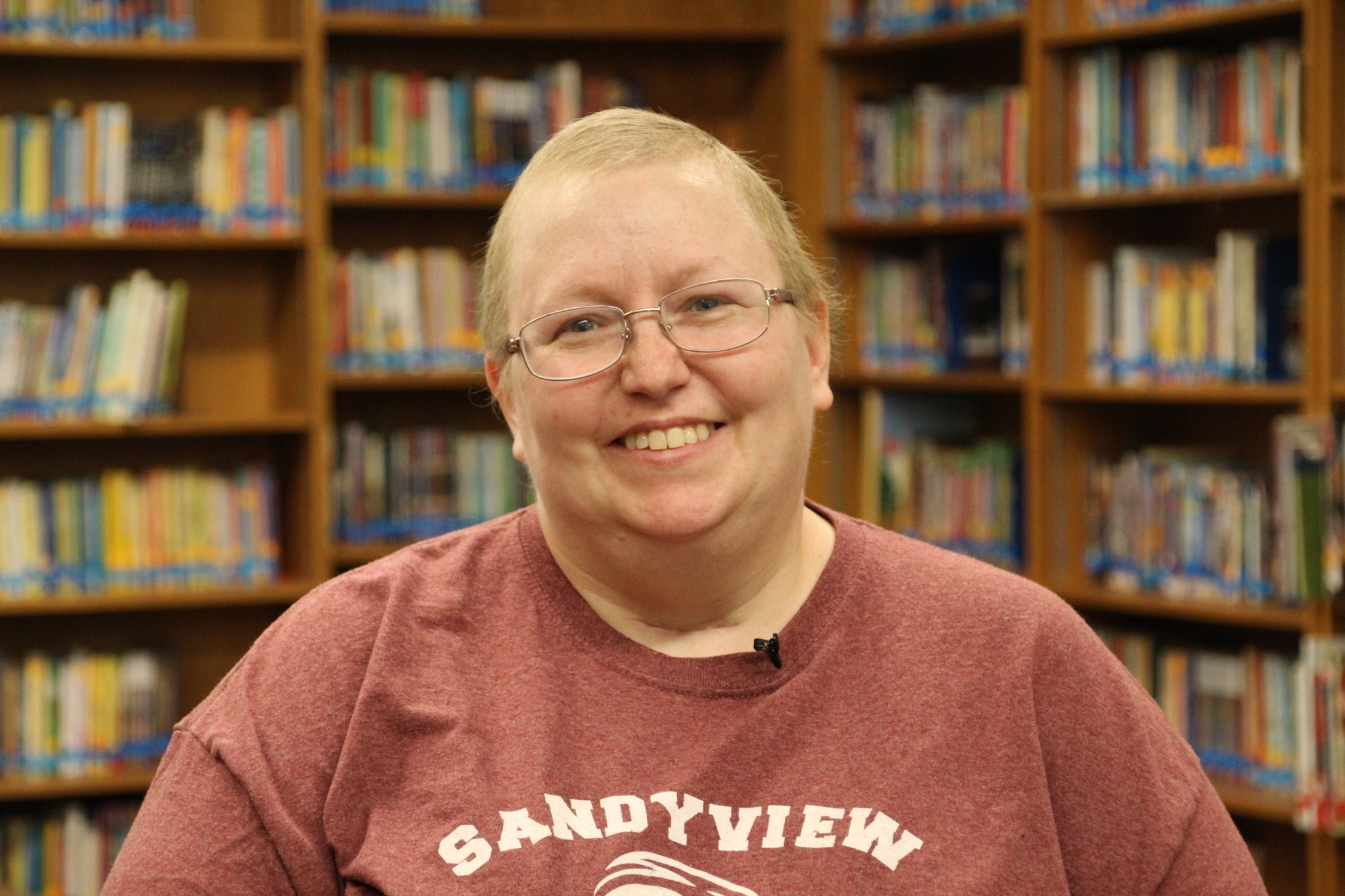 View her full journey in video form here.
Since 2003, Elizabeth Foshaug has been dedicating her life to Hamilton Community Schools.
"I fell in love with the place and the community feeling here," said Foshaug, "I love how we all support each other here and I couldn't imagine going anywhere else."
Mrs. Foshaug serves as the media librarian and custodian at Sandyview Elementary and no matter which role she's in at the time you come across her, she has a smile on her face. In fact, not even a cancer diagnosis could bring her down.
"My journey has been interesting," Foshaug said looking back, "I started with my first mammogram in November of last year and they found two suspicious spots on my right breast that led to an ultrasound and we needed a biopsy. I found out on December 29 that it was malignant and that meant surgery, chemo, and radiation."
That's when she developed a plan with her supervisors, Mr. Jared Randall and Mr. Lon Haverdink to allow her to keep working while navigating around a busy schedule filled with appointments. However, that journey was only the beginning.
"In the beginning of March, I had my first infection and went into the hospital and removed the first port and had a second one put in. By the end of June, I had a third port that was infected and had it removed," Foshaug added.
Unfortunately, that wasn't all. Foshaug was also beginning a second battle with cancer, this time in her thyroid which was diagnosed in April. Just one week after her third port was removed, she would need surgery to remove half of her thyroid. Thankfully, both surgeries were successful. Foshaug would undergo radiation therapy throughout the month of August and while that is completed, the maintenance chemo will continue through March or April.
While the past year has been a whirlwind for her, she continues to keep a smile on her face and couldn't be more excited to be back with the students throughout the 2022-23 school year.
"Tough stuff comes, cancer is a scary word but no matter what comes, there's a way out," she smiled, "you just have to persevere and keep working through it."
Entering year 19 with the district, Foshaug's commitment to the students of Hamilton is stronger than ever as she continues to spread positivity and perseverance throughout the Hamilton Community.