Welcome to

Sandyview Elementary
Welcome to Sandyview!
Welcome to Sandyview Elementary! We are a K-4 elementary building in Hamilton Community Schools. There is one section of each grade in the building. Sandyview Elementary has incredible family and community support through the WISH (We're Investing in Students of Hamilton) Volunteer Program and our Parent-Teacher Organization. If you would like to learn more about Sandyview, please contact our principal, Mrs. Martin. We would love to share with you about our great school!
Click here for the 2022-23 Parent Calendar

Back to School Supply List
Sandyview In The News!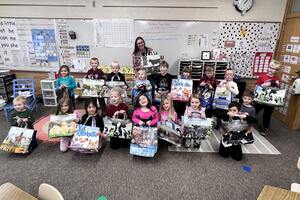 Mrs. Kroeze makes reusable bags for Sandyview Kindergarteners
November 17, 2022
Bags made of old animal feed bags gifted to students for their wet clothing after recess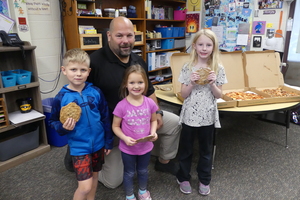 Sandyview S.O.A.R. winners receive a pizza party with Deputy Knapp
November 11, 2022
Congratulations to Jordan (Kindergarten), Brooklynn (2nd), Jack (2nd), Savannah (3rd) and Hannah (4th)!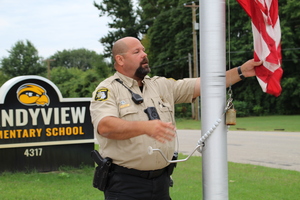 Hamilton Community Schools hires first-ever School Resource Officer
November 7, 2022
Officer Joe Knapp to begin serving the district on December 1
Christine Martin
Principal
Morgan Koops
Building Secretary
Girl scouts meeting

Location:

4057 38th Street Hamilton, Mi 49419

Calendar:

2022-23 Community Events Calendar

https://hamiltonschools.gofmx.com/scheduling/requests/2654167/occurrences/6821440

BOE Work Session

Location:

4845 136th Avenue Hamilton, Mi 49419

Calendar:

2022-23 Community Events Calendar

https://hamiltonschools.gofmx.com/scheduling/requests/2654761/occurrences/6823049

PTO Meeting

Location:

3472 Lincoln Road Hamilton, Mi 49419

Calendar:

2022-23 Community Events Calendar

https://hamiltonschools.gofmx.com/scheduling/requests/2607404/occurrences/6693854

BoE Special Meeting

Location:

4845 136th Avenue Hamilton, Mi 49419

Calendar:

2022-23 Community Events Calendar

https://hamiltonschools.gofmx.com/scheduling/requests/2681103/occurrences/6880248

Girl Scout Troop 80013 Meeting

Location:

3472 Lincoln Road Hamilton, Mi 49419

Calendar:

2022-23 Community Events Calendar

https://hamiltonschools.gofmx.com/scheduling/requests/2624597/occurrences/6757541

Girl scouts

Location:

4057 38th Street Hamilton, Mi 49419

Calendar:

2022-23 Community Events Calendar

https://hamiltonschools.gofmx.com/scheduling/requests/2673443/occurrences/6861663

Board of Education Meeting

Location:

4845 136th Avenue Hamilton, Mi 49419

Calendar:

2022-23 Community Events Calendar

https://hamiltonschools.gofmx.com/scheduling/requests/2648502/occurrences/6811955

Girl scouts

Location:

4057 38th Street Hamilton, Mi 49419

Calendar:

2022-23 Community Events Calendar

https://hamiltonschools.gofmx.com/scheduling/requests/2673443/occurrences/6861664

Girl scouts

Location:

4057 38th Street Hamilton, Mi 49419

Calendar:

2022-23 Community Events Calendar

https://hamiltonschools.gofmx.com/scheduling/requests/2673443/occurrences/6861665